The third generation of Porsche's larger SUV comes in a lighter, sleeker package with a new 8-speed automatic, optional four-wheel steering and tungsten-carbide coated brake discs.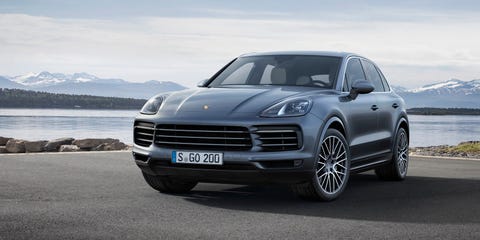 Both the Cayenne and the Cayenne S are set to hit U.S. dealers midway through 2018, starting at $65,700 and $82,900. The base car has the three-liter single-turbo V6 tuned to produce 340 horsepower and 332 lb-ft of torque, while the S packs a 2.9L twin-turbo V6 making 440 horsepower and 406 lb-ft of torque. Both come standard with a fully variable all-wheel drive system and a new 8-speed version of Porsche's Tiptronic S gearbox, but as usual, you'll want to spend some extra on Stuttgart's rather tempting options. Of which there are many.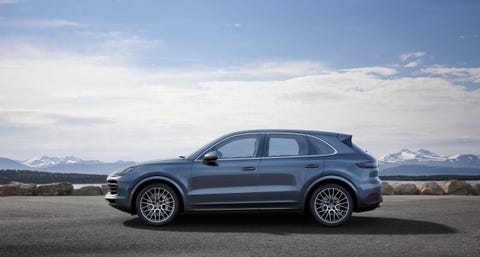 Speaking of the chassis, there are quite a few updates in that department too. Porsche used a new separated link design for the front axle with a multilink setup at the rear, complemented by larger wheels ranging from 19 to 21 inches. Rear-axle steering is optional, but when equipped will reduce the turning radius at low speeds while providing greater stability at a quicker pace.
Interestingly, priced below the range-topping Carbon Ceramic Brake package will be a new option available with 20 and 21-inch wheels only: cast-iron discs with a tungsten-carbide coating. Porsche says that as well as having an "impressive glossy appearance complemented by white painted calipers," this finish also increases friction while reducing wear and brake dust.
That's good, since the Cayenne can accelerate to 60 mph in 5.9 seconds (or 5.6 seconds with the optional Sport Chrono package) and has a "top track speed" of 152 mph, while the Cayenne S (and it's more powerful engine) will do the same run in 4.9 seconds (or 4.6 seconds with the Sport Chrono), and continue on to a 164 mph top speed. Perhaps more importantly, the new 8-speed has shorter gearing with an intentionally long eighth gear, improving response while reducing noise, vibration and consumption levels at cruising speeds.
When it comes to the exterior design, I would say that this evolutionary approach resulted in a sleeker SUV that's certainly more like a scaled up Macan than anything new, but that might just be the ticket to the buyers' hearts. Plus, if you look at the original from 2003, all the crucial elements are still where they should be.