As you car shop for Subarus and possibly other brands, it's important to know what makes a Subaru a Subaru and how the other brands stack up. Forget the hype about the number of cup holders or whether the car has illuminated vanity mirrors. This one page describes three core issues you should look at when considering buying a car, no matter what the brand. By the time you read to the bottom on this page, you will understand why Subaru owners are so loyal and passionate about their cars and why Subaru is the safe choice for you and your family. Just ask ANY Subaru owner.
1. Horizontally Opposed Boxer Engine – Flat is Beautiful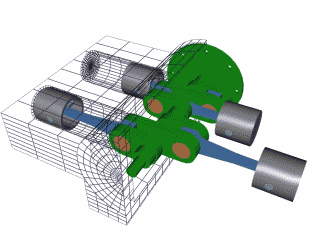 The Subaru Boxer engine sits at the heart of every Subaru vehicle. The intelligent engineering behind Subaru's Boxer engine provides the get-up and go you expect from a Subaru, and provides plenty of power for Subaru's symmetrical AWD system. The flat laying engine design provides the perfect combination of balance, power and efficiency. Besides the occupants, the most important piece of your vehicle is under the hood. While our competitors may focus on rear-seat DVD players and 11 cupholders, at Subaru our main goal is your driving experience and safety. The Subaru Boxer engine delivers, even under the most adverse conditions and still maintains the highest fuel efficiency among dedicated AWD vehicles. When you compare the Boxer to other engine styles you will quickly realize there is no comparison. The video above illustrates this.
NOTE: The boxer engine name comes from the way the pistons move. In most cars, pistons move up and down. In the boxer engine, the pistons move horizontally, like a boxer punching.
Boxer Engine Advantages vs. Inline and V-type Engines
You want a smooth ride with long lasting dependability. The Subaru Boxer engines' unique design provides less vibration than our competitors. Each horizontally opposed piston cancels the vibration of the opposite piston.
Besides Subaru, only Porsche uses the unique Boxer engine style to maximize power and stability. It's no wonder why V-Type and Inline engines in Toyota, Honda, Ford and Nissan don't compare to the Subaru Boxer.
You want your engine to last as long as possible, right? Look at the cars below. Notice how the pistons in the boxer engine on the left are always lubricated. Lubed pistons on the Boxer engine wear slower than dry starting Inline and V-type engines because there is less friction when initially starting your vehicle. Think of it like a roll-on deodorant where you have to get the ball wet by rolling it before it works. Not good for the pistons (or your armpit).
 2. Subaru Symmetrical All-Wheel Drive
All-wheel drive (AWD) is not a unique concept, but symmetrical all-wheel drive is. Unlike most AWD systems that are adapted from 2-wheel drive, Subaru's symmetrical AWD starts out as all-wheel drive. Power for the symmetrical AWD system comes directly from Subaru's Boxer engine, which gives adequate power to each wheel, continuously, to prevent slippage in any road condition. Competitors often say, "We have all-wheel drive, just like Subaru." Don't let their misinformed salespeople or their part-time AWD systems or fancy names like Intuitive AWD (Nissan), Intelligent 4WD (Ford), On-Demand 4WD (Toyota) or Real Time 4WD (Honda) fool you. Only Subaru's symmetrical AWD system is always on to protect you and your family when you need it most. This is clearly demonstrated in the videos below:.
NOTE: Torque steer is created when the front drive shafts are of unequal length. During heavy acceleration the steering may pull to one side, which can be disturbing to the driver causing them to fight for control. The video below demonstrates the effects of torque steer.
Torque steer will not occur with Subaru's Symmetrical AWD. The best way to describe Subaru's Symmetrical All-Wheel Drive system is to compare it to an airplane wing. Imagine what would happen if one wing was longer than the other – the plane would lose control. Subaru's Symmetrical AWD is balanced like an airplane wing or perhaps a butterfly. It's a thing of beauty inspired by nature.
Symmetrical AWD vs. Front-Wheel Drive-based AWD
Front-wheel drive-based AWD systems are adapted by a transverse mounted engine. What does this mean for your driving experience? Subaru symmetrical AWD works all the time, not just when the vehicle senses slippage. Also, the almost perfectly balanced design improves control and handling, even on the toughest of road conditions. Don't you want to keep your family safe all the time, not just when your vehicle thinks it should?
Notice the symmetrical AWD system? The balanced design helps improve vehicle stability, safety and power and it's only found in a Subaru.
3. Subaru Advanced Safety Engineering
 Subaru was named the ONLY automaker with IIHS Top Safety Picks for All Models – FIVE YEARS IN A ROW (2010 – 2015)! People think of safety as the ability to survive an accident. But, the best way to survive an accident is to avoid having one in the first place. Subaru's are equipped with a broad range of safety features and systems to protect you. At Subaru of Keene, we don't feel that safety features should be an option on your next car purchase. That's why all of our Subaru's have a thorough array of active and passive safety features to protect you and your family. Go ahead, compare us to the competition and you will notice that our competitors feel that safety has a price tag.
Ring-Shaped Reinforced Frame
There are no weak spots in a ring. Try this: place your finger on a table and press on the top of your wedding band, you won't feel the pressure because it protects your finger. Ring-shaped construction protects passengers. It is engineered to absorb and dissipate the forces of an impact.
Safety Brake Pedal System
During a severe frontal collision, the brake pedal and components present a clear danger to your feet and legs. The safety brake pedal system actually moves away from the driver to prevent these injuries on Subaru vehicles. You might not think you will ever be involved in a serious car accident, but if you are you will be safer if you have the safety brake pedal system in your Subaru.
Subaru VDC (Vehicle Dynamics Control, also known as electronic stability control)
Standard on all 2010 and newer models, VDC helps keep you on your intended path by measuring variables such as steering input, braking, and vehicle angle. Sensing any slide that causes the vehicle to deviate from your intended course, VDC applies individual brakes and / or reduces engine power to help counteract the slide and help keep you safely in control. How cool is that!
-VDC operates at all speed-whether the vehicle is in a straight line or while cornering
-VDC can sense impending loss of control at either the front or rear of the vehicle and momentarily applies the brake on one or more wheel providing a counteracting force to help restore stability.
-VDC is equipped with an off button that can be activated/deactivated at the discretion of the driver
When the VDC system is deactivated (VDC warning light is illuminated on dash), the VDC system can be reactivated (VDC warning light not illuminated on dash) by:
-Pushing in the VDC button
-Or, by pushing in the VDC button and holding it in for approximately 10 seconds
system will stay activated until the engine is turned off
-Or, After the vehicle is stopped the iignition is shut off and the ignition key is returned to the lock position and then the engine is restarted
4-Wheel Independent Suspension
– Designed to keep all four wheels in contact with the road surface
-Works efficiently with Subaru Symmetrical All-Wheel Drive
-Lets each wheel react to bumps and potholes independently of the others
-Better control and a smooth ride over rough road surfaces
-Subaru's Double Wishbone Suspension provides more trunk cargo room than traditional suspension systems.
Subaru Active Safety Features
-Four Channel/four sensor anti-lock braking system
-Electronic Brake Force Distribution
-Brake Assist
-Driver Visibility
-Symmetrical All-Wheel Drive
-Boxer Engine Placement
-Fully Independent Suspension
-Vehicle Dynamics Control System
Subaru Passive Safety Features
-Ring-shaped reinforcement body frame design
-Front and rear crumple zones
-Occupant restraint systems: seat belts and advanced airbags
-Safety Pedal System
-Sub-frame and Engine placement
-Collapsible steering column
-Lower anchors and tethers for children (LATCH)
Notice how the crumple zones and engine displacement prevented cabin intrusion in this severe head-on collision of a Subaru Legacy.