"There are all sorts of reasons why people buy classic cars," says Steve Leigh, director at Essex Classic Car Auctions. "Often it's nostalgia: mum or dad owned one, or the buyer couldn't afford the insurance when it was new. Some want to take part in classic motorsport, while others simply want to be seen and show their car off."
There's another reason the market for old cars is booming, of course, and that's money. Most classics – especially cars of the 1980s – have soared in value in recent years, capturing the attention of investors and enthusiasts alike. "If buying property is beyond your budget, classics are a safe bet," reckons Steve. They're much more fun than a two-bedroom flat in the suburbs, too.
Video: a visit to Essex Classic Car Auctions
We've picked our highlights from the forthcoming ECCA auction, which takes place in Maldon on 4 March 2018. Whatever your budget, there's something worth bidding on here.
Ferrari 308 GTB
Where else to start but with the Italian stallion? A Rosso Corsa Ferrari always turns heads, and the prancing horse badge guarantees top-drawer classic status.
This 59,000-mile 308 GTB is at the cheaper end of the Ferrari spectrum, with an estimate of £75,000 – £85,000. Its a 1980 model, which means steel bodywork (early cars were glass-reinforced plastic, and thus around 150kg lighter) plus a dry sump for its 3.0-litre 255hp V8.
Inside, you'll find tan leather, a Momo steering wheel and Ferrari's iconic open-gate manual gearbox. The 308 has recently benefited from around £10,000-worth of work, but still needs tidying to make it perfect.
Mini 30
From the extraordinary to the ordinary. Or maybe not. The original (pre-BMW) Mini may be the best-selling British car of all time, but cute looks, clever design and agile handling mean it's hardly run-of-the-mill. Besides, most of the five million sold have since succumbed to rust, so good examples are getting hard to find.
This Mini Thirty – a 1989 special edition marking 30 years of production – is an Italian import, and its pearlescent Cherry Red paintwork has benefited from a life in warmer climes. It's not cosmetically perfect (the side stripe decal is missing, for example), but the shell looks solid and the 998cc engine feels eager. We love the part-leather seats and Cooper-style Minilite alloys, too.
"The Mini Thirty. Never before has one so little offered you so much" claimed the ad at the time. If you're tempted – as we are – the car is currently listed with no reserve.
Mercedes-Benz 300 SL (R107)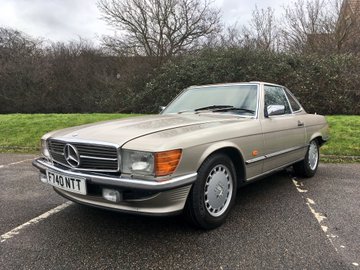 "The 1960s 'Pagoda' SL is the Holy Grail," says Steve, "but its successor is equally good to drive – and appreciating fast." That car is the 1971-1989 SL (R107 in Mercedes-speak) and, for our money, it's one of the best classic cars you can buy.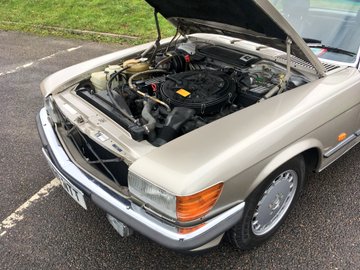 For starters, it looks stunning, albeit in an understated sort of way. It's also a pleasure to drive: wafty, butter-smooth and utterly relaxing. Plus, the choice of folding fabric roof or removeable metal hard-top (supplied with the car) means you can enjoy it in all weathers.
Best of the rest
The world of classic cars is endlessly eclectic. So if none of the above tickle your fancy, here are several cars that caught our eye in the ECCA warehouse.
It's impossible to miss the fluoro-orange Melling Wildcat, particularly when Steve fires up its thunderous Chevy V8. The pet project of ex-TVR engine designer Al Melling, only a handful were made. This one – Wildcat number five – has just 860 miles on the clock. The estimate is £19,000 – £22,000.
We also rather fancy the dark blue Mercedes-Benz 320 SL. This 2000 car is a limited-run 'SL Edition', which means heated seats, climate control air-con and plush interior trim. It also has an electrically-folding hard-top: a luxury denied the 1989 SL featured above. The expected sale price is £12,000 – £15,000.