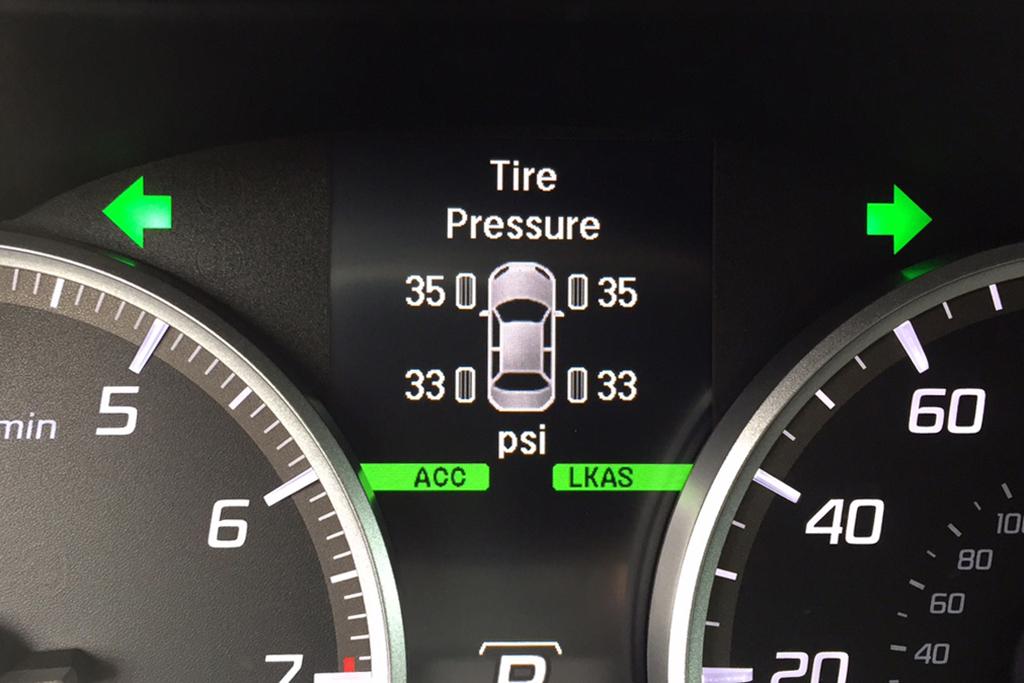 While it may seem like a mundane task, inflating tires is much more crucial to your car than you may think, and it results in a safer and more economical experience on the road. Your vehicle's handling also will be greatly improved as the larger a tire's inflated footprint, the more responsive and comfier the ride balance will be.
Because it's National Tire Safety Week, it's the perfect time to check your car's tires.
Before starting
To find your tires' proper inflation level, look for a sticker on the driver-side doorjamb. It displays the vehicle weight restriction and tire information. The info is also found in the maintenance or car-care section of your vehicle's owner's manual.
Don't refer to the sidewall markings on your tires, which in part specify the maximum tire pressure — not the recommended pressure.
Unless your tire is visibly flat, don't judge tire inflation just by looking at it; you have to use a tire pressure gauge to get the correct pounds per square inch reading. There are three types of tire-pressure gauges: digital, internal slide and dial. Prices range from $5 for a basic gauge to more than $30 for one that is digital, has an air-release button — or even talks. All will do the job, but you may want to consider the conditions in which you'll be using your gauge. "We've found that low-cost digital pressure gauges are very accurate and maintain the accuracy longer, but in extremely cold temperatures the gauge may not show up properly," said John Rastetter, Tire Rack's director of tire information services.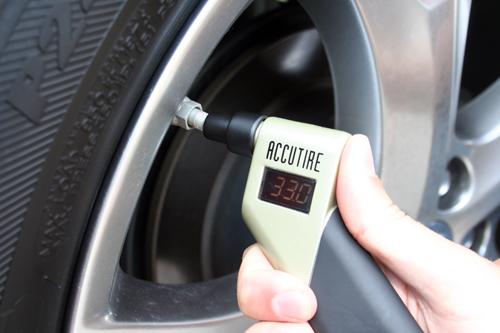 Tips for checking and filling your tires
Tire manufacturers suggest checking tires when they're cold for the most accurate reading. Outside temperatures can cause tire pressure to vary by as much as 1 psi per 10 degrees; higher temperatures mean higher psi readings. "Tires are black; what does black do? Attract heat," Rastetter said, noting the importance of finding a shady place to check and fill all four tires.
Temperature plays a huge part in tire psi, Rastetter said, adding that the most crucial time of year to check pressure is in fall and winter when days are shorter and average temperatures plummet.
Check your tires in the morning before going anywhere, because as soon as you get behind the wheel for an extended amount of time, psi will rise. Rastetter said that if you've been on the road a long time and notice higher psi in your tires, don't let the air out, as the increase in pressure has built up due to the warm, constantly-in-motion tires
What to do
1. Pull your car onto a level surface in the shade.
2. Remove dust caps from the tires' valve stems.
3. Using your tire gauge, firmly press the tip of the gauge straight on to the tire's valve stem for a brief moment.
4. The tire gauge should provide a psi reading; if the number seems unrealistically low or high — for example, 85 psi or 1 psi – you will need to repeat the previous step, ensuring that the tire gauge's tip is properly making contact with the valve stem.
5. If the tire gauge's recorded reading is higher than the manufacturer-recommended rating, press the gauge tip on the valve stem until you hear air leak out. Check the tire pressure again.
6. If the reading is lower than recommended, fill the tire with air by firmly pressing the air-hose tip onto the valve stem. You will hear air quietly enter the tire. If you hear air leaking or spraying out, you need to double-check that the connection between the air hose and the tire's valve stem is secure.
7. When you think you've added or let out enough air, check the pressure a few times with the gauge.
8. Replace the valve dust caps. Rastetter emphasized the importance of keeping dust caps on during winter driving because if water gets into the valve stem and freezes inside the tire, it could cause a flat.
While you're at it, check your spare tire's pressure. You don't want to have a flat tire and then find out your replacement is flat, too.
Make these steps part of your routine. It will benefit your vehicle and your wallet.
How to Remove a Sticker From Your Car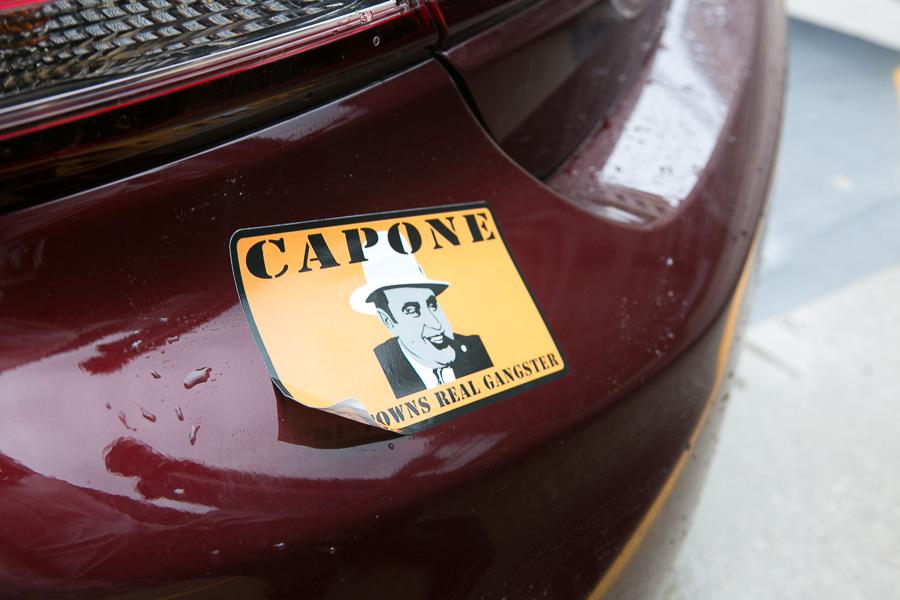 Stickers on cars can symbolize just about anything under the sun. They can show support for a certain political candidate, identify you as a proud parent of an honor student or the fact that you just love that one special dog breed. Others are required by local laws, like city stickers. Some even come attached to your new car straight from the dealer.
But political campaigns and straight A's end at some point, and those city stickers need to be replaced every year.
While removing stickers isn't as easy as putting them on, we have some advice that should make the job a little less sticky.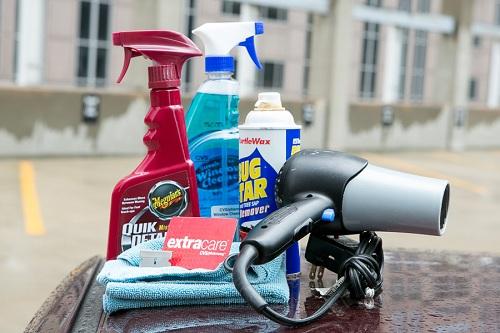 What you need:
Hair dryer with hot air settings
Razor blade or a box cutter (if removing from glass)
Sturdy plastic card — could be a library card, credit card, frequent shopper card or ID
Two clean rags or detailing towels
Glass cleaning solution (if removing from glass)
Tree sap remover solution
Quick detailing spray
What to do:
1. Ensure that the sticker and the surrounding area are free of dirt. Doing this removal process works best after a car wash.
2. Plug in the hair dryer, turn the heat setting to hot and hold the hair dryer just a few inches above the sticker. Do not place the hair dryer directly on top of the sticker and the car's paint.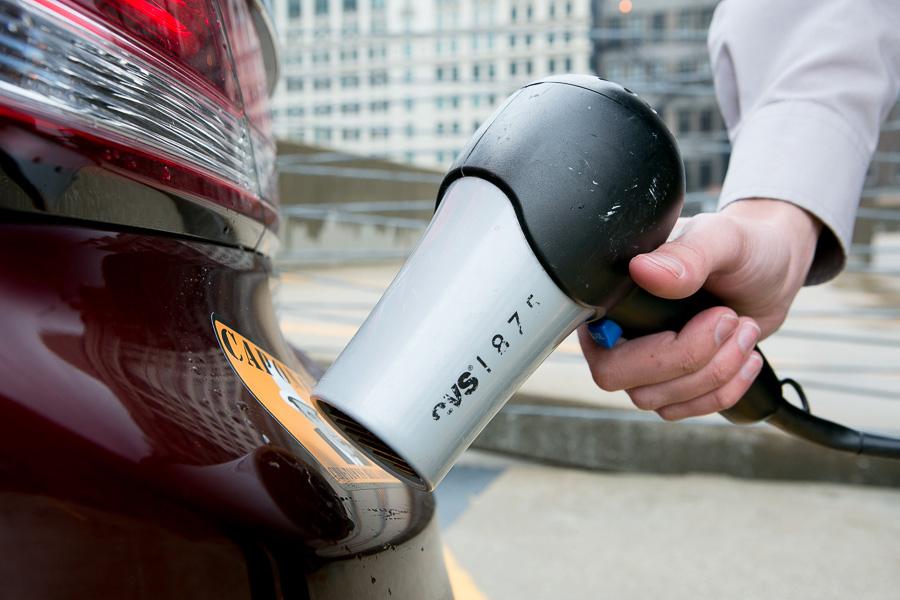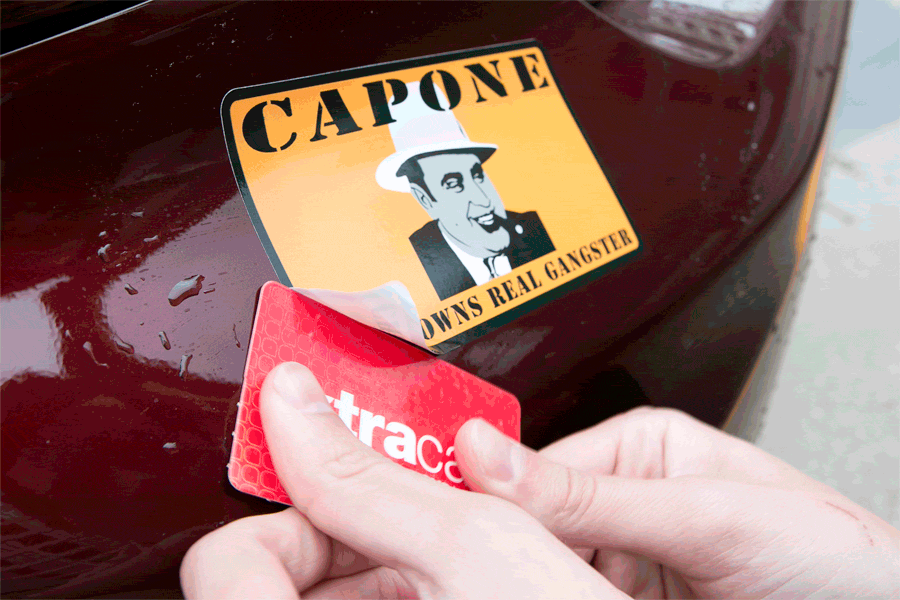 4. After you've let the sticker heat up, use the plastic card at an angle to gently scrape up under the sticker. You can also try using your fingertips. If the surface area is hot enough, you will be able to slide the card under the sticker's edge and begin to peel it away.
Repeating steps 2-3 a few more times may make a cumbersome presidential campaign sticker that's been on your bumper since the last time your party won easier to remove. You can also try moving the plastic card or razor blade back and forth while you slide it under the sticker's surface.
If you're removing a sticker from your car's glass, use the box cutter or razor blade at a slight angle. Do not use a box cutter or razor blade on your car's paint; it will cause damage. On glass you will be able to apply a bit heavier pressure, if needed, to remove the sticker.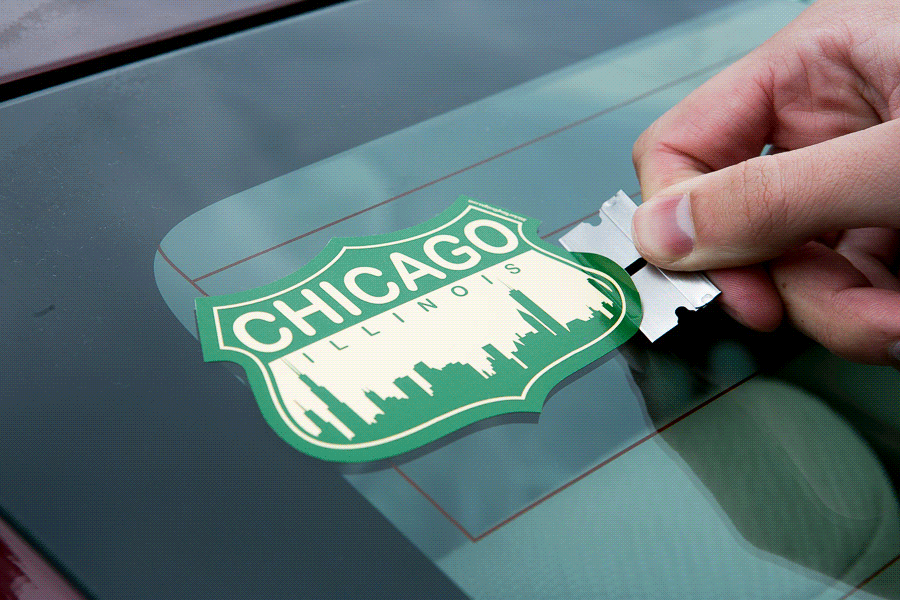 5. Continue to push the plastic card — or razor blade — underneath the sticker until it completely breaks away from the car's surface. It is completely normal for the sticker to break apart during this removal process.
6. Once the sticker is removed, you can repeat steps 1-4 to remove any sticky residue or remnants. Tree sap remover also works great. Just apply a few drops onto a clean rag or detailing cloth and scrub away. If there's sticky residue on your car's glass, use the razor blade to gently scrape it away.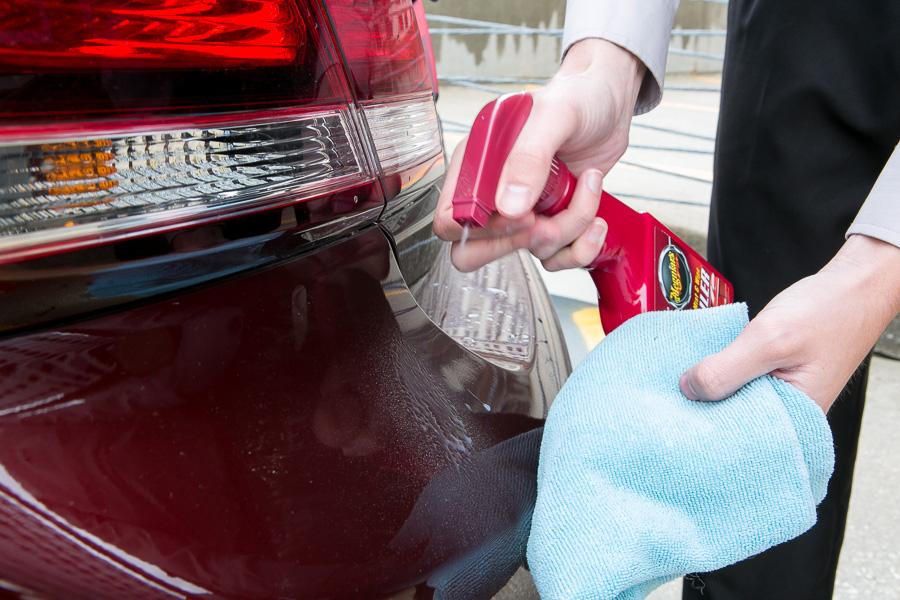 7. When that part of the car is completely clear of any sticker and its residue, polish it off with some glass cleaner or quick detailing spray
*While we hope to help, Cars.com is not responsible for any damage that may occur to your vehicle by following the steps above.
Want to know how to clean something else in or on your car? Let us know in the comments section below.
How to Remove Salt Stains From Your Floor Mats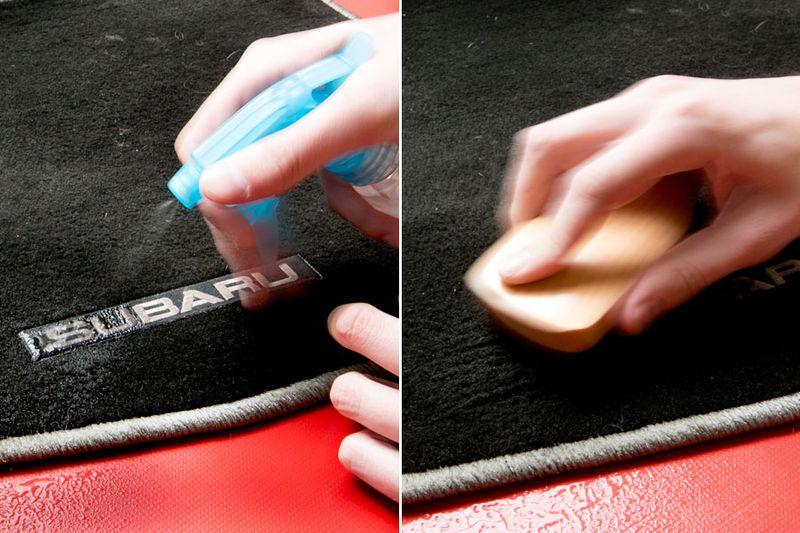 Spring is almost here and for many car owners that means saying goodbye to snow, slush and street salt.
All three of those elements can wind up inside your car no matter how careful you are during winter driving. Your car's floor mats and carpet end up being victims of this wintery mess, and oftentimes it can be a pain to clean the aftermath. Thankfully, when it comes to cleaning salt-crusted carpet and floor mats there's a remedy that's inexpensive and easy to follow. We're also fans of buying winter floor mats that are less arduous to clean, but inevitably those are often forgotten until the first snow of the year has already left a stain or two.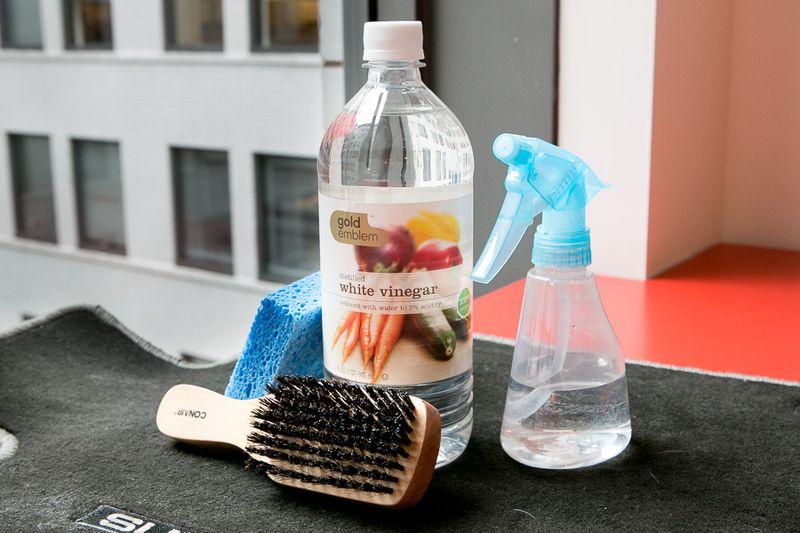 What you need:
1 bucket or spray bottle
1 bottle of household distilled white vinegar
Hot water
Scrub brush with hard bristles
Shop or auto vacuum (optional)
Steps
1. Mix a 50/50 solution of household distilled white vinegar and hot water in a bucket or spray bottle.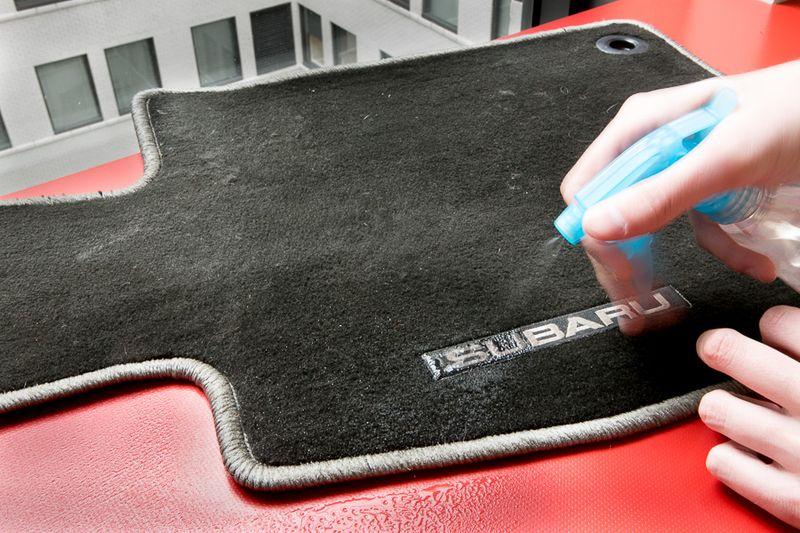 2. Pour or spray the water-vinegar solution onto the salt-crusted carpet or floor mats, making sure to avoid contact with any electrical connections. Filling an empty spray bottle with this solution allows you to easily spray the area you're working on.
3. Let sit for a few seconds.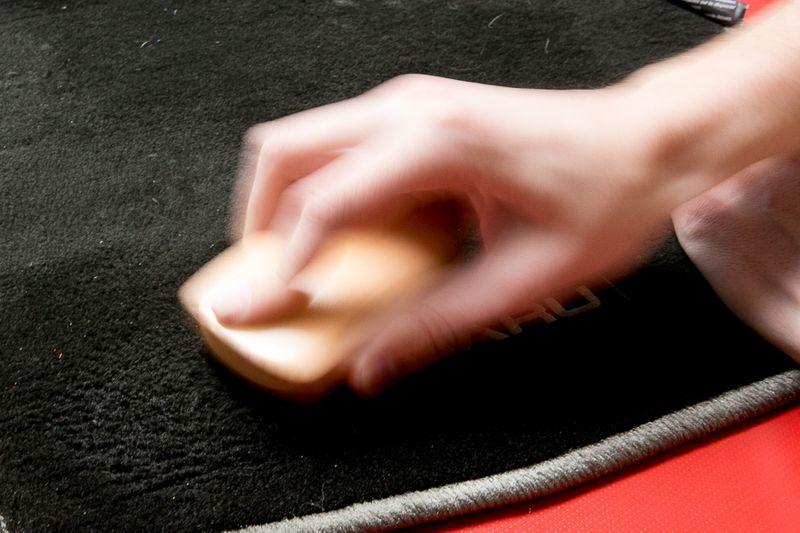 4. Scrub vigorously with the scrub brush.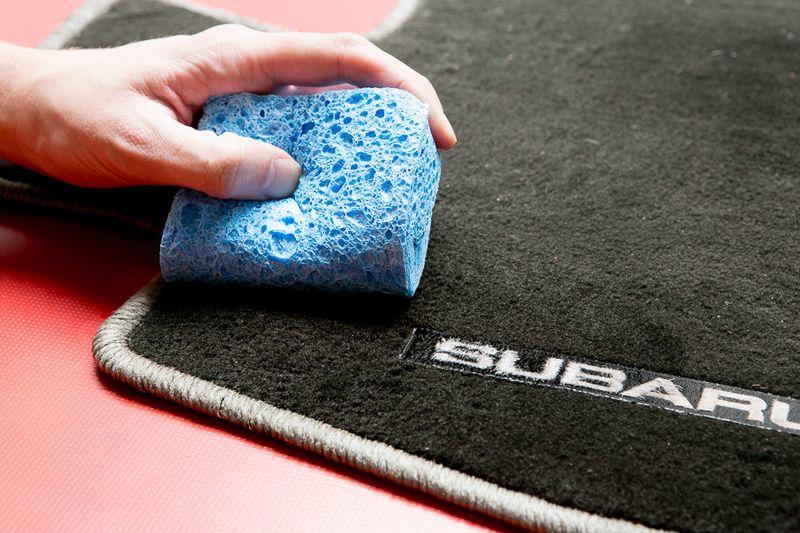 5. Using a paper towel, sponge or clean cloth, dab and soak up the remaining mixture. *You can repeat steps 2 through 4 a few times, if desired, for stubborn salt stains.*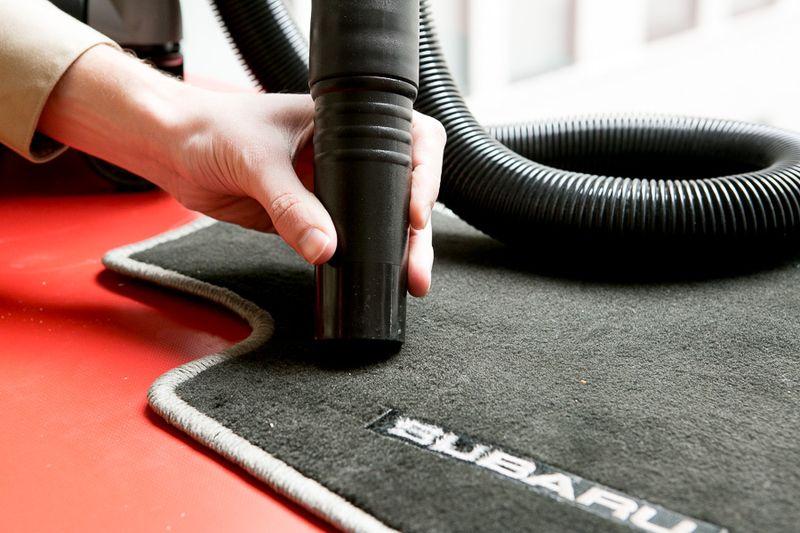 6. You can stop here or finish the job with a vacuum, preferably a wet shop vac that can suck up any leftover salt that was removed from the carpet.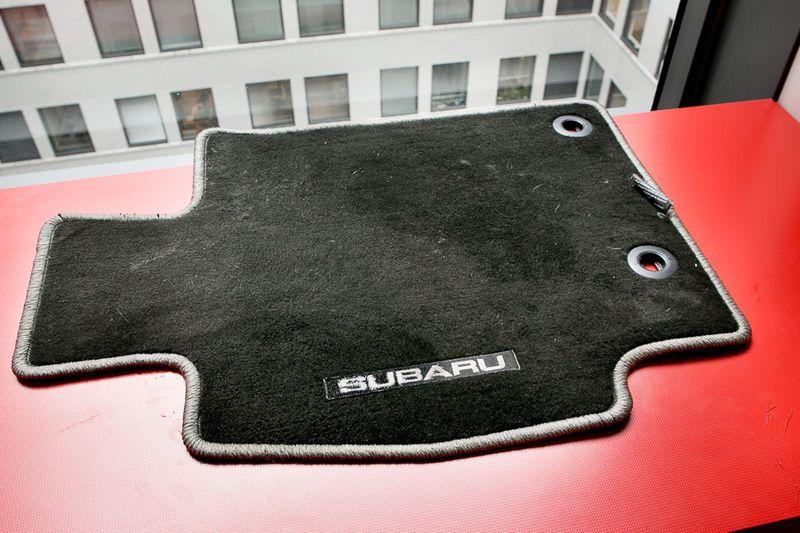 7. When done, hang your floor mats up to dry or leave your windows rolled down (if inside) for the car to air out. The last thing you want is to drive to a fancy restaurant and have your date think you're wearing vinegar for cologne. The night could quickly turn sour.
Inexpensive rubber floor mats from your local auto parts store can help eliminate this hassle. Swap these with the regular mats during the winter driving months, and keep your cloth floor mats safe in your trunk or garage. We've even splurged on custom-fit floor mats from time to time.
Do you have any secret tips for spring cleaning your car? Let us know in the comments below.
**While we hope to help you, Cars.com is not responsible for any damage that may occur to your vehicle by following the steps above.